Page 4 - Member Benefits Guide 2019
P. 4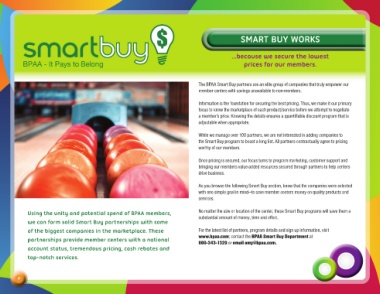 Using the unity and potential spend of BPAA members,               SMART BUY WORKS
     we can form solid Smart Buy partnerships with some
     of the biggest companies in the marketplace. These                  ...because we secure the lowest
     partnerships provide member centers with a national                       prices for our members.
     account status, tremendous pricing, cash rebates and
     top-notch services.                                   The BPAA Smart Buy partners are an elite group of companies that truly empower our
                                                           member centers with savings unavailable to non-members.
4
                                                           Information is the foundation for securing the best pricing. Thus, we make it our primary
                                                           focus to know the marketplace of each product/service before we attempt to negotiate
                                                           a member's price. Knowing the details ensures a quantifiable discount program that is
                                                           adjustable when appropriate.

                                                           While we manage over 100 partners, we are not interested in adding companies to
                                                           the Smart Buy program to boast a long list. All partners contractually agree to pricing
                                                           worthy of our members.

                                                           Once pricing is secured, our focus turns to program marketing, customer support and
                                                           bringing our members value-added resources secured through partners to help centers
                                                           drive business.

                                                           As you browse the following Smart Buy section, know that the companies were selected
                                                           with one simple goal in mind—to save member centers money on quality products and
                                                           services.

                                                           No matter the size or location of the center, these Smart Buy programs will save them a
                                                           substantial amount of money, time and effort.

                                                           For the latest list of partners, program details and sign up information, visit
                                                           www.bpaa.com; contact the BPAA Smart Buy Department at
                                                           800-343-1329 or email amy@bpaa.com.